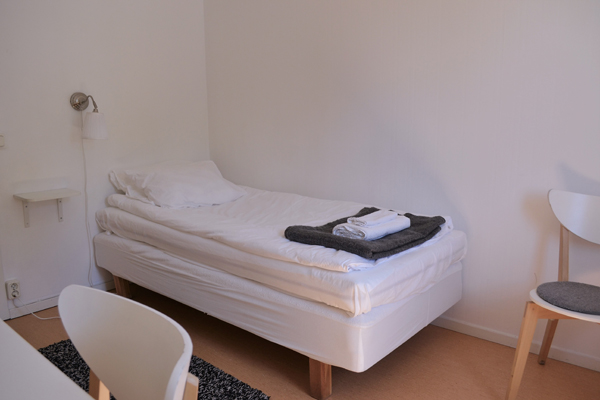 Room 3
Single room
450 SEK/night
Toilet adjacent to the room
(Extra bed, 150 SEK/night/person)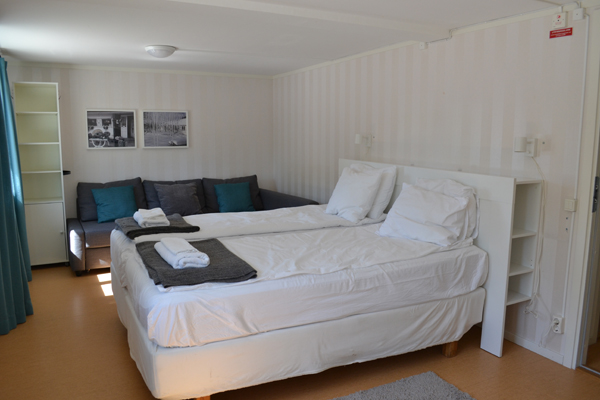 Room 4
Double room
800 SEK/night
Toilet adjacent to the room
(sofa bed 140 cm , 150 sek/night/person)
Information room!
Bedsheets and towels are included.
Check-in at the earliest at 14.00, check-out at the latest at 11.00
There is two spacious showers and a toilet in the corridor.
TV is available inside the common room, where also a refrigerator and a microwave is located.
Wifi is available.
Simple breakfast included.
Information cabin!
Bedsheets are included.
Microwave, coffee machine, refrigerator and egg boiler is available for use.
Check-in at the earliest at 14.00, check-out at the latest at 11.00
The cabins include a bunk bed and a sofa bed suited for two people.
TV is available inside the cabin
Wifi is available

There is a service house in the area belonging to the cabins, there is a fridge, stove, oven, microwave, shower and WC.

Breakfast not included.
Booking rules Rosängen Bed & Breakfast
You and Rosängen Bed & Breakfast / Cottages (hereafter referred to as Rosängen) come across the terms of the room rental. The rose bed with which you will agree in the booking confirmation. A booking is binding as it is confirmed and you need a booking confirmation. This can be done orally, in writing or via our booking system. To book a room / cottage at Rosängen you must be at least 18 years old. For security reasons, we only allow our employees and checked-in guests to stay freely in rooms / cottages or other associated premises. The accommodation is non-smoking and non-alcoholic!
Cancellation must be made no later than 48 hours before check-in date, when full refund will be received. Cancellation after 48 hours so no refund cut. Cancellation is only done by e-mail at: info@rosangen.se where it is stated date & time.
The tenant is responsible for their valuables. Do not leave valuables or luggage unattended. Rosängen has no responsibility for property that you keep in the room or in the cabin.
Payment is always made in advance through our online booking.
Always find out where emergency exits are, and if any. alarm buttons are available. Fire alarms caused by negligence are charged to the tenant.
Personal data that you provide paid by Rosängen to provide, administer, follow up and charge for the services you have booked. This also communicates communication as a dinner or informs about your booking or uses and information that connects to your booking before, during and after your stay.
We wish you a pleasant stay at Rosängen!